Recovering from Dental Implant Surgery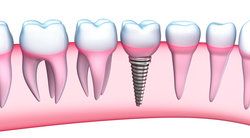 Dental implant surgery is the most advanced restorative treatment available for replacing adult teeth that have been lost as a result of injury or decay. Dental implants are placed into the jaw bone during an oral surgery procedure. Cosmetic dentist Eugene D. Stanislaus advises his Brooklyn patients that dental implant surgery recovery is vital in determining the ultimate success of dental implant treatment. As the gums and jaw heal, the bone and implant will fuse together, creating a solid and durable anchor for dental restorations. In order to ensure that this process, known as osseointegration, is successful, patients should be prepared to follow all post-operative care instructions and precautions. Here, patients can learn what will be expected during dental implant surgery recovery.
Side Effects
As with any other surgical procedure, it is likely for the patient to experience side effects following dental implant surgery. While the recovery period for dental implants treatment is lengthy due to the fact that the bone needs adequate time to fuse with the implant, the period in which side effects are experienced will be short lived, often lasting just a few days. During the first three to four days of recovery, it is normal for patients to experience the following side effects:
Light oozing or bleeding from the implant site
Mild to moderate pain or discomfort
Swelling and/or bruising on the face by the area of surgery
Numbness or tingling of the lips and tongue
A slight increase in body temperature, although a temperature over 101 degrees may be cause for concern
Care Instructions
Dr. Stanislaus will provide all necessary post-surgical care instructions before the patient returns home after surgery and these instructions should be followed precisely. The following are some common tips or care instructions that should be followed after dental implant treatment:
Keep gauze pads over the incision sites for at least one hour after surgery and continue to change out pads as needed to collect any blood or discharge
Eat only liquid or soft foods for at least the first 24 hours after surgery
Avoid extremely hot or cold food or beverages for at least 24 hours
Do not drink from a straw for at least 24 hours
Use prescribed antibiotics as directed to avoid infection during recovery
Use prescribed or over-the-counter pain medication as directed to control any discomfort following surgery
Resume brushing the teeth 24 hours after surgery but avoid mouth wash or hydrogen peroxide rinses for two weeks after surgery
Refrain for smoking throughout the entire recovery period (which may be four to six months) as it can interfere with the body's healing process
Keep all post-surgical follow-up appointments with Dr. Stanislaus so that recovery can be monitored
Schedule an Appointment
Dr. Eugene D. Stanislaus and his team at Brooklyn Heights Dental are happy to answer any questions you may have or provide you with more information regarding dental implants treatment and recovery. If you are interested in learning more about how dental implants can restore strength and beauty to your smile, schedule an appointment with Dr. Stanislaus at your earliest convenience. We look forward to hearing from you!
Related to This